Warning: Parameter 1 to cms_module_Lang() expected to be a reference, value given in /mnt/web-data1/skoda-abzeichen_eu/public_html/www/lib/classes/class.module.inc.php on line 2003
Pardubice-dostihy
Veteránská burza v areálu Dostihového závodiště Pardubice. http://www.veteranklub.wz.cz/
Burza 19.9.2009 až tak povedená nebyla, slabá propagace, nízká účast prodejců a diváků, co dodat. Příště už NE.
Předpokládám, že se jedná o pokračování zrušených tradičních burz na Svítkovském závodišti - na oválu Zlaté přilby. Pardubické vymoženosti s kombinováním burz v Lázních Bohdaneč a Svítkově - snad konkurenční boje v klubu, nehodlám komentovat.
Na "koníčky" se pojedu podívat spíš ze zvědavosti. Je to blízko a je to jediná akce tuto sobotu (5. 4. 2008)
Burza v Lázních Bohdaneč ( 19.4.2008 ) se kříží s burzou v H. Brodě a tam mám zaplacený celoročně stůl.
Burza celkem vydařená, nic nového se neobjevilo. Sluníčko svítilo, komorní atmosféra. Zbytek je na obrázcích.
Obr.č.1 - 7.41 hod - ranní nápor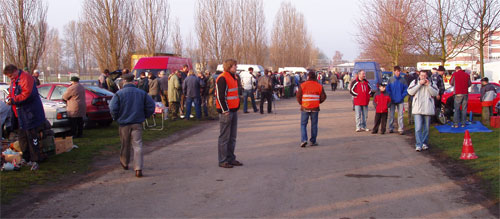 Obr. č.2 - 7.42 - hlavní ulička
Obr. č. 3 - expozice Veteran klubu Pardubice
Obr. č. 4 - nejzajímavější z celé burzy - motocykl BSA
---